Grilled Peach Halves with Fresh Blueberry Compote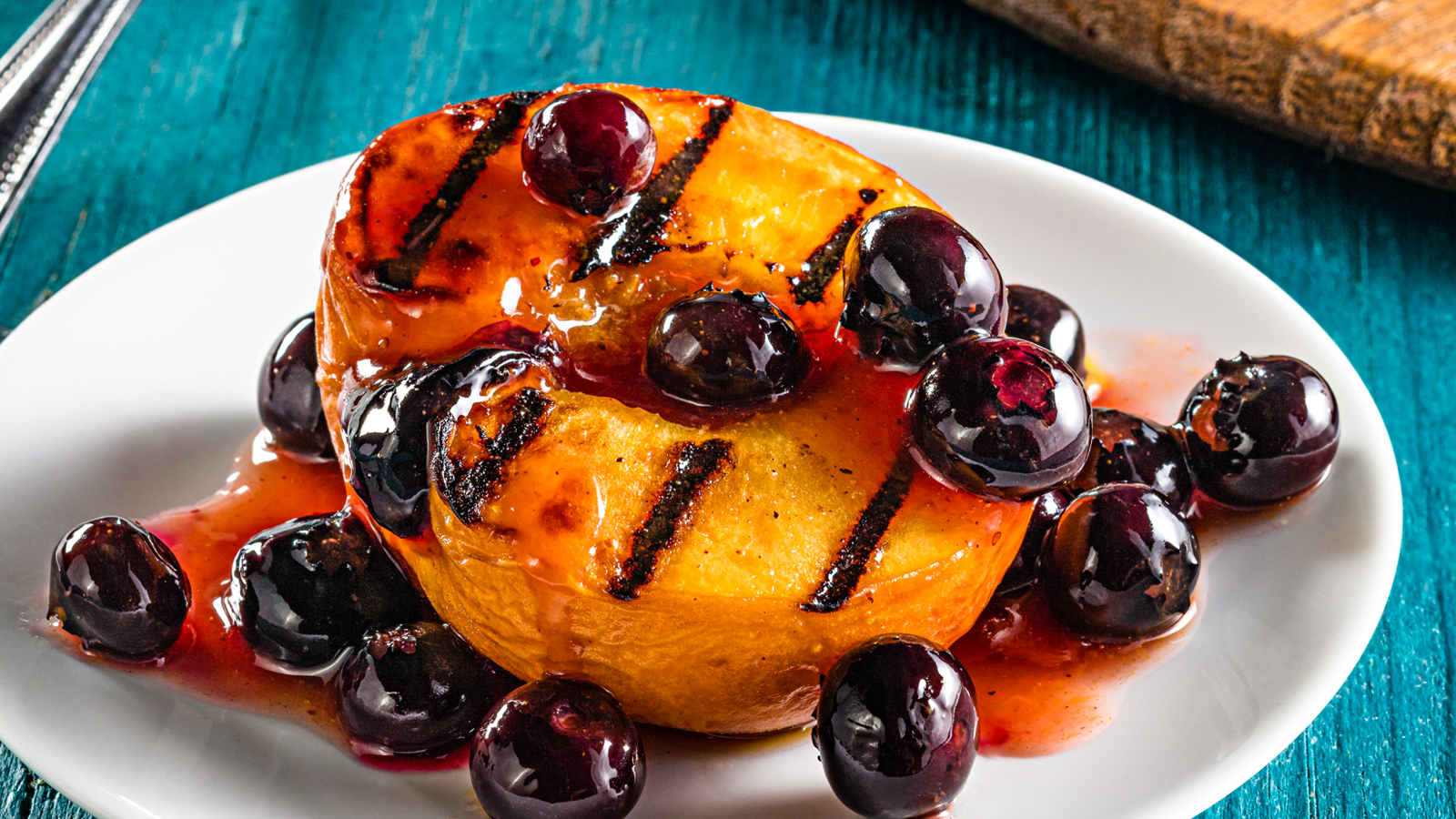 Grilling the peach caramelizes its natural sugars. The warm peach combines beautifully with bright berries in this appealing dessert.
Ingredients
Serves: 2
Serving Size: 1 peach half with 2½ tablespoons compote
Prep Time: 5 minutes
Cooking Time: 10 minutes
Cooking spray
1 teaspoon light tub margarine, melted
1/2 tablespoon firmly packed light or dark brown sugar
2 tablespoons plus 1 teaspoon fresh orange juice, divided use
1/4 teaspoon ground nutmeg, divided use
1 firm but ripe freestone peach, halved
1 teaspoon honey
1/4 teaspoon cornstarch
1/3 cup blueberries
Directions
Lightly spray a grill rack with cooking spray. Preheat the grill on medium high.
In a small bowl, stir together the margarine and brown sugar. Stir in 1 teaspoon orange juice and 1/8 teaspoon nutmeg.
Put the peach halves with the cut side up on the grill rack. Brush generously with the brown sugar mixture. Grill for 4 minutes, or until golden brown on the bottom. Turn over the peach halves. Brush generously with the brown sugar mixture. Grill for 4 or 5 minutes, or until the peach halves are heated through and golden brown.
Meanwhile, in a small saucepan, stir together the remaining 2 tablespoons orange juice, honey, and cornstarch. Cook over medium heat for 2 minutes, or until thickened and smooth, stirring constantly. Remove from the heat. Stir in the blueberries and the remaining 1/8 teaspoon nutmeg. Serve over the peach halves.
Exchanges/Choices
1 Fruit, ½ Carbohydrate
Nutrition Facts
| | |
| --- | --- |
| Calories | 90 |
| Calories from Fat | 15 |
| Total Fat | 1.5g |
| Saturated Fat | 0.5g |
| Trans Fat | 0g |
| Polyunsaturated Fat | 0.5g |
| Monounsaturated Fat | 0.5g |
| Cholesterol | 0mg |
| Sodium | 15mg |
| Potassium | 200mg |
| Total Carbohydrate | 19g |
| Dietary Fiber | 2g |
| Sugars | 16g |
| Added Sugar | 6g |
| Protein | 1g |
| Phosphorus | 20mg |