Cubano Roasted Broccoli Florets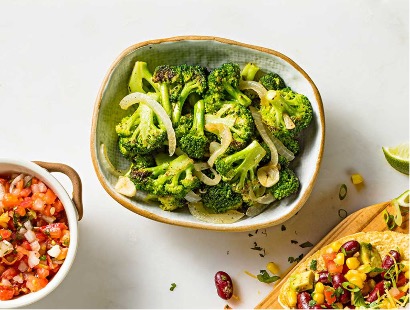 Plain broccoli gets a Cuban makeover!
Ingredients
Serves: 4
Serving Size: 1 cup
Prep Time: 10 minutes
Cooking Time: 25 minutes
1/2 cup thinly sliced yellow onion
3 medium garlic cloves, thinly sliced
1 teaspoon lime juice
1/4 teaspoon ground cumin
1/8 teaspoon cracked black pepper
16 ounces broccoli florets
2 teaspoons avocado oil
Directions
Preheat the oven to 350°F. Line a baking sheet with parchment paper.
In a large bowl, stir together the onion, garlic, lime juice, cumin, and pepper. Add the broccoli and oil, tossing until the broccoli is well coated.
Spread the broccoli on the baking sheet. Roast for 25 minutes.
Exchanges/Choices
2 Vegetable, 1/2 Fat
Nutrition Facts
| | |
| --- | --- |
| Calories | 70 |
| Calories from Fat | 25 |
| Total Fat | 3 g |
| Saturated Fat | 0 g |
| Trans Fat | 0 g |
| Polyunsaturated Fat | 0.5 g |
| Monounsaturated Fat | 1.5 g |
| Cholesterol | 0 mg |
| Sodium | 40 mg |
| Potassium | 400 mg |
| Total Carbohydrate | 10 g |
| Dietary Fiber | 3 g |
| Sugars | 3 g |
| Added Sugar | 0 g |
| Protein | 4 g |
| Phosphorus | 85 mg |